NEW! Catalog filtering by HOW, WHAT, WHEN, WHERE, WHO, and WHY


"We increase efficiency by showing live data in meaningful ways from right within Workfront, without the time delay and complexity of exporting or integrating to other specialized software. If you appreciate the 'real time with no extra work' advantages to which we aspire, we invite you to consider the solutions in our catalog."
What's New? Resource Contouring!

Our Resource Contouring solution lets you visualize and manage resources using rollup Hours by Day, Week, or Month with no "Special Math" required!
As shown to the right, our Resource Contouring solution drastically simplifies the way you can visualize and manage your resources by highlighting both bottlenecks and opportunities. By tailoring your own Assignment Filters or simply navigating to the Portfolio, Program, Project, or User of interest, you can then easily create a grid, spreadsheet, and (with our optional plugins) Capacity Chart or Heatmap to confirm "what's really in Workfront", then take appropriate action at whatever Time Unit among Day, Week, or Month is most convenient for you.
If you are looking for an on-ramp into the valuable and exciting world of Resource and Capacity management within Workfront, we invite you to consider making our Resource Contouring solution the Next Exit on your journey.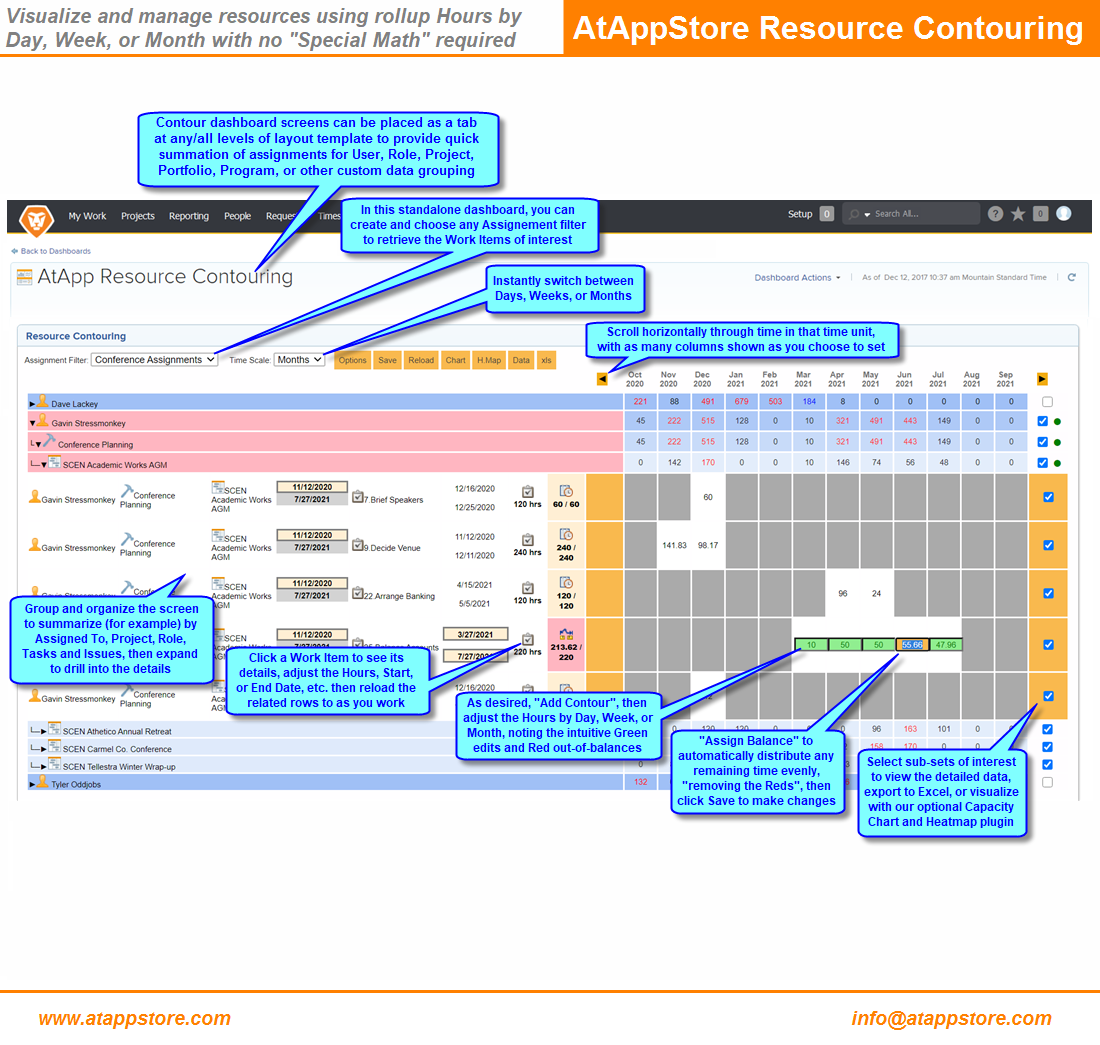 Services
Scheduled Jobs
R&D Co-Development
Pricing
Pay-As-You-Go
Prepayment Discounts (15-50%)
Fixed Price Options (50-90%)
Hourly Consulting Rates
---
— Top 10 Solutions —
---
How much time are YOU WASTING chasing schedules?
Check out Just In Time Resourcing, JITR™!
---
Here's what our Clients said for the
Workfront Partner Awards!
---
Who Are We?
AtAppStore Inc. has been Workfront's partner and premier VAR since 2009. We believe that Workfront is the best work management platform in the world. We are experts in Workfront, and spend our days helping customers improve their businesses by configuring and extending Workfront.
Why AtAppStore?
We strive for efficiency in all we do, and love saving our Workfront clients time. We have leveraged our familiarity with the Workfront APIs to bring innovative solutions to the Workfront community. Our goal is to provide these Solutions at an attractive price, allowing Workfront users to save time.
How does it Work?
Think of the solutions as macros for your Workfront data. You sign up with the AtAppStore, connect to Workfront, then run our solutions to manipulate your Workfront data for about 1/5th the cost of performing the same action manually. We can help you "Save All the Time, and Most of the Cost!"
When do I Need It?
In short: when you're ready. If you're just starting with Workfront, you've probably got enough new ideas to keep you busy for a while. Once you're over the learning curve though and start recognizing the edges of where Workfront maps your business, we can help you take it to the next level.
---
"We are passionate about increasing the value our clients get out of Workfront.
We specialize in improving process by bending Workfront as a platform,
coaching executives and senior resources to transform their business"

— Doug Den Hoed, CEO
AtAppStore Inc.
---
Which interests you the most within Workfront?
Improve Your
Business Intelligence
Gain Leading-edge
Resourcing & Scheduling
Increase Efficiency
with System Tools