Logo Loco

If you've been using Workfront as your Project Portfolio Management Software for a while, you might remember the old layout, where you could put your own company's logo in the top left corner. As the administrator, I used to keep a couple of versions of my logo handy. I'd set the regular one for normal operations, but set a black and white one when I was doing maintenance. It was a way of broadcasting to my team.
Although the top left logo is no longer an option — to be fair, that really is the primest location of them all — I've figured out a slicker way to broadcast announcements. And share Help Files. And get my logo back.
NOTE: this technique was developed in the R15 version of Workfront, but stopped working mid R16. At this time, Workfront seems to only support rendering URLs that are posted "outside" of Workfront, such as using https://www.atappstore.com/extras/ESPHome/ESPHome2013-07-14WeatherRigsAndEnergy.html as the URL for an External Page, and noting that you may need to adjust your browser settings in order for https or http links to render successfully. Sorry folks.
Click Help
There are lots of steps in this one, but if you scroll down to the screenshot, I hope you'll agree that the end justifies the means.
Write your own help manual (e.g. in Powerpoint; you're on your own for this one)
Create a new Project (e.g. Help Docs)
Attachments > New Document > upload your help manual
Attachments > View Documents > Click help manual > Hover on Preview for ID (e.g. 816046)
Paste Link into Helpdoc.HTML (e.g. see Internal Help Manual href)
Repeat previous 3 steps for Company logo (e.g. see img src)
Test Helpdoc.HTML (e.g. layout, links should work)
Attachments > New Documents > upload Helpdoc.html
Attachments > View Documents > Click Helpdoc.html > Hover on Preview for ID (e.g. 816117)
Create > External Page > Help Page, with defaults, plus URL (e.g. https://yourdomain.attask-ondemand.com/attask/documentDownload.cmd?boolean%28viewinline%29=true&ID=816117)
Create > Dashboard > Help Dashboard, with Help Page as the only report
Note ID of Dashboard from URL (e.g. 118321)
System Settings > Preferences > General Preferences > Help URL (e.g. https://yourdomain.attask-ondemand.com/attask/dashboardRun.cmd?ID=118321)
Click the Help link within Workfront to view your new Help Dashboard/External Page/Document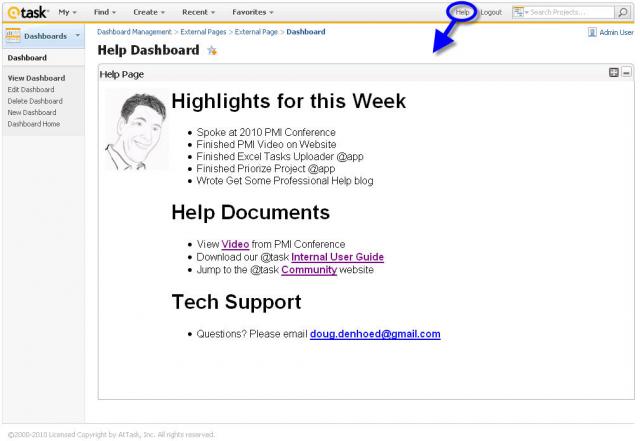 Download Details
You are welcome to download the simple Helpdoc.html file from this article and modify it for your own purposes. You could share status updates, broadcast upgrades and outages, link to a training video, or even make a virtual team bulletin board. Just remember that each time you upload a new version of Helpdoc.html, you'll need to update the ID in your Help External Page. It took me six versions to get this one just right <grin>.